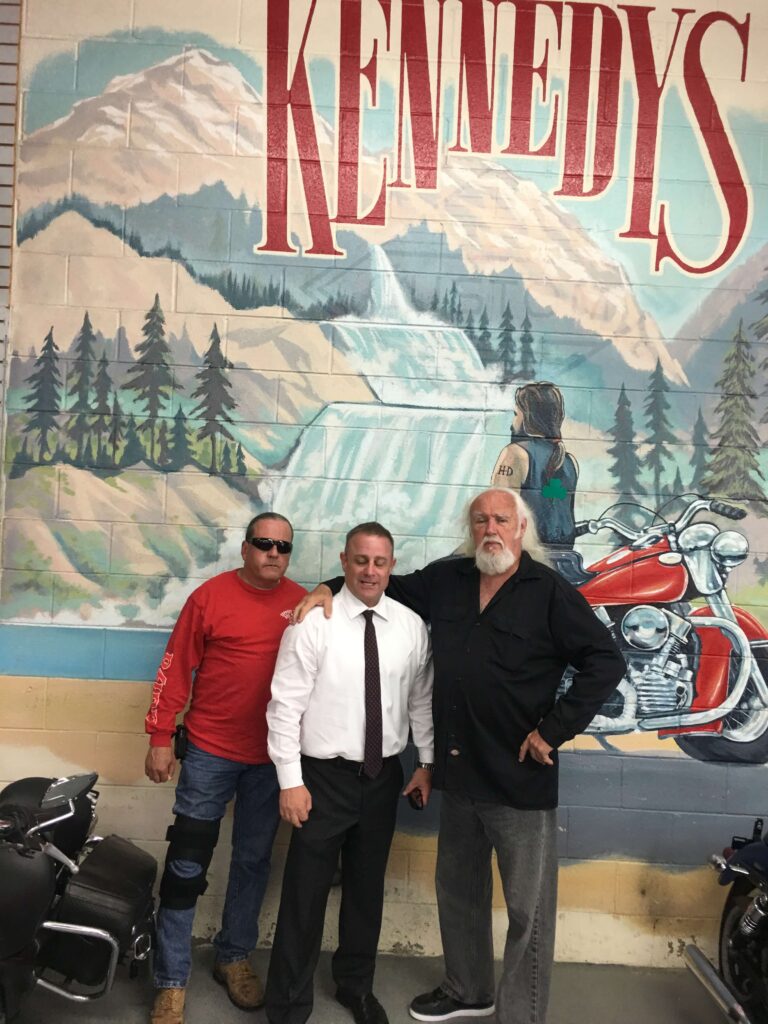 First, I have met Bill Kennedy in the past and have been authorized to write this article. I have the utmost respect for the biker community and would never assume anything unless requesting mast. Bill Kennedy of Kennedy's Custom Cycles in Oceanside is alive and well, contrary to rumors that have been circulating around San Diego and Oceanside since Kennedy's Custom Cycles closed down. For you history buffs, here is a great interview of Bill in San Diego when he had the shop running.
Mural Was Painted Over?
After his beautiful mural was painted over and lost to history, the world wondered what had happened! Recently, there have been rumors spreading that Bill Kennedy, a co-founder, along with his brothers of Kennedy's Custom Cycles, had passed away.
These unfounded rumors could likely cause concern among his family, friends, and loyal customers, who know him to be a beloved member of the Oceanside and Christian community at large. However, Kennedy's Custom Cycles never released an official statement one way or another, confirming whether Bill Kennedy was alive and well or not.
All Rumors are False
That, and another rumor, is also false. His sibling brothers are also alive and well. I am certain Bill expresses his gratitude for the outpouring of concern and support from the biker and veteran community at large. I am officially asking him right now to attend the Paul Ehline Memorial Ride in San Berdu. We can even do a 21-gun salute in loving memory of Kennedy's Custom Cycles.
About Kennedy's Custom Cycles
Kennedy's Custom Cycles has been a fixture in the Oceanside area for many years, offering enthusiasts high-quality custom motorcycle builds and repairs. Bill Kennedy has been at the helm of the business since its inception and is known for his expertise, craftsmanship, and dedication to his customers.
Gossip is Bad
The false rumors of Bill Kennedy's death are a reminder of the power of basic gossip to spread misinformation quickly. It is important to verify the information before sharing it online, and this is a 100% fact-checked article on my honor as a U.S. Marine. Especially when it concerns the well-being of others who played a positive role in my life, such as Kennedy, I will take action to preserve their honor and set teh record straight.
Business Closed, Life Good
Kennedy's Custom Cycles no longer remains open for business to serve the Oceanside community with his passion and expertise for custom motorcycles. But the lives he touched, and people he witnessed, and the souls he helped save, he will always live on. Motorcycle shops die, that's what they're here for, but the Kennedy brother's legacy will live forever, so that means you bikers will live forever.
Stay Tuned for any Authorized Scuttlebutt
In conclusion, Bill Kennedy of Kennedy's Custom Cycles of Oceanside is alive and well. The rumors of his passing are false, and the community is relieved to know that he is still with us. I am not at liberty to discuss this beyond these facts. My sources are confidential but highly reliable.